Diversity, equity, and inclusion are important to us at BenchSci and as a part of our DEI journey we are committed to learning about, celebrating, and amplifying the voices and accomplishments of people from diverse backgrounds.
May is Asian Heritage Month in Canada or Asian American and Pacific Islander Heritage Month (AAPIHM) in the U.S. This month marks an opportunity to learn more about the many achievements and contributions of individuals of Asian descent. Last year the theme was "Recognition, Resilience, and Resolve", we chose to spotlight six scientists whose dedication and excellence in their professions had a widespread impact on scientific communities around the world. The theme for 2022 is "Continuing a legacy of greatness," and so we are updating this list to honor six more scientists who have made significant contributions to the field and the world today.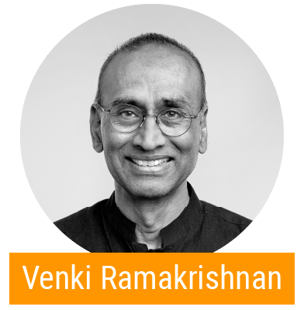 Venkatraman 'Venki' Ramakrishnan (b. 1952) is an Indian-born British and American structural biologist. In 2009 he shared the Novel Prize in Chemistry with Thomas A. Steitz and Ada Yonath for studies of the structure and function of the ribosome. Since 1999, he has worked as a group leader at the Medical Research Council's (MRC)'s Laboratory of Molecular Biology at Cambridge University. He served as President of the Royal Society from 2015 to 2020.
Born in Chidambaram, India, Ramakrishnan's parents were both scientists. He first began his academic career with a Ph.D. in physics from Ohio University before spending two years studying biology at a graduate level at the University of California San Diego as he transitioned from theoretical physics to biology. He began his work on ribosomes as a postdoctoral fellow at Yale University under Peter Moore, which he would continue to pursue ultimately becoming internationally recognized for determining the atomic structure of the 30S ribosomal subunit.
Today, Ramakrishnan continues to lead the Laboratory of Molecular Biology in researching translational initiation in bacteria and eukaryotes. He is also a prominent guest speaker–BenchSci had the pleasure of hosting a fireside chat with him in March 2022.
Read more about Venki Ramakrishnan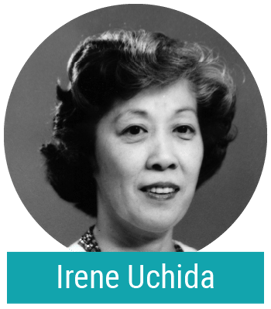 Irene Ayako Uchida (b. 1917, d. 2013) was a geneticist and Down syndrome researcher who introduced cytogenetics and the study of chromosomes and heredity to Canada. In 1960 she became the director of the Department of Medical Genetics at the Children's Hospital in Winnipeg and a professor at the University of Manitoba. During this time she helped identify the link between pregnant women who had undergone abdominal X-rays and chromosomal birth defects such as Down syndrome in subsequent pregnancies. She was a professor of pediatrics and pathology and director of the cytogenetics lab at McMaster University from 1969 until she was until she retired in 1985.
Before her beginning her scientific career, Uchida was enrolled in English at the University of British Columbia during which time she became an activist for Japanese Canadian rights. She and her family were among 22,000 Japanese Canadians sent to the Lemon Creek internment camp during World War II. She opened and operated a school for interned children within the camp until the war ended. In 1946 she was finally able to complete her undergraduate studies earning a BA in English literature from the University of Toronto and planned to pursue social work until she took an introductory genetics course which led her to pursue genetics. She graduated with a Ph.D. in zoology in 1951 and became a research assistant at the Hospital for Sick Children in Toronto, Ontario, where her work focused on children with congenital heart diseases and Down syndrome.
During her 50-year career, Uchida published close to 100 medical papers and received numerous honors and distinctions, including Woman of the Century (1967), 1,000 Canadian Women of Note (1983), and Officer of the Order of Canada (1993).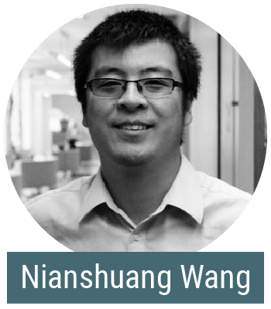 Nianshuang Wang is a Chinese scientist whose research into coronaviruses became pivotal to the design of mRNA vaccines created during the COVID-19 pandemic.
Wang has a Bachelor's degree in Life Science from the Ocean University of China and a Ph.D. in structural biology from Tsinghua University. In 2014 during his Ph.D. he determined the structural mechanism of MERS-CoV receptor recognition, partnering with Linqi Zhang's lab in 2014 to isolate the first monoclonal neutralizing antibody against MERS-CoV. He then became a postdoctoral fellow at the McLellan Lab and followed the lab when it moved to the University of Texas in 2018. It was during his fellowship that he did further research into coronavirus spike proteins which would be used for the design of COVID-19 mRNA vaccines. At the time, there was little interest in the work until early 2020 when the first cases of COVID-19 were documented.
Today, Wang is a scientist at Regeneron Pharmaceuticals where he continues to do work with antibodies.
Read more about Nianshuang Wang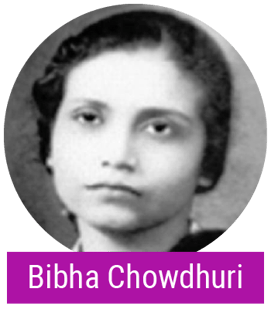 Bibha Chowdhuri (b. 1913, d. 1991) was an Indian physicist who worked on particle physics and cosmic rays. The first Indian woman to earn a Ph.D. in physics, Chowdhuri demonstrated that the density of penetrating events is proportional to the total particle density of an extensive air shower.
Born in Kolkata, India, Chowdhuri earned her MSc in Physics in 1936 at the University of Calcutta, where she began her research work into cosmic rays under Dr. Bose. With particle accelerators not yet available, Chowdhuri went to the tops of mountains to study subatomic particles in cosmic rays using cloud chambers during which time she observed a new particle: mesons. She published these findings in Nature between 1938 to 1942 alongside Dr. Bose but due to World War II, she was not able to get the emulsion plates required to continue her research. Cecil Frank Powell replicated their experiment seven years later with the necessary technology, earning him the Nobel Prize. Chowdhuri and Bose's earlier observations were acknowledged by Powell as necessary to the discovery.
Chowdhuri returned to India after her Ph.D., where she continued to work as a researcher and physicist publishing papers nearly until the time of her death. The International. Astronomical Union re-christened the yellow-white dwarf star HD86081 as "Bibha" in her honor.
Read more about Bibha Chowdhuri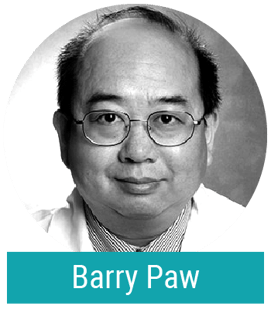 Barry Paw (b. 1962, d. 2017) was a Burmese American biologist and hematologist who discovered several novel genes and their functions in red blood cells. His team was the first to use zebrafish as a model to identify mutations that cause anemia, pioneering the use of zebrafish for research into human disease.
Born in Myanmar, Paw and his family immigrated to the U.S. as refugees when he was seven years old. He grew up in California and graduated from the University of California at Berkeley, attaining an MD and Ph.D. at UCLA while studying the molecular basis of Tay-Sachs disease. For his medical residency, he moved to the Pediatric Hematology and Oncology Department at Boston Children's Hospital, Harvard Medical School. While a postdoctoral fellow at the Zon lab, he introduced the zebrafish as an animal model to investigate erythroid development.
Paw's received several recognitions from the scientific community including the William Randolph Hearst Young Investigator Award in 2002, Basil O'Connor Scholar Award from the March of Dimes Birth Defects Foundation, and the Young Investigator President's Award from the International BioIron Society in 2005. Dr. Paw was also elected to the American Society for Clinical Investigation in 2008.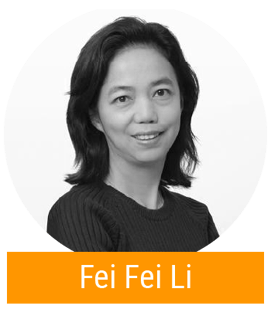 Fei-Fei Li (b. 1976) is a Chinese American computer scientist whose work in artificial intelligence, machine learning, computer vision, and cognitive neuroscience has made substantial improvements to how computers identify objects. Li is a Co-Director of the Stanford Institute for Human-Centered Artificial Intelligence, and a Co-Director of the Stanford Vision and Learning Lab.
Li was born in Beijing, China, and immigrated to the U.S. when she was in high school. She majored in physics but also studied computer science and engineering as an undergraduate student at Princeton University. She received her Ph.D. in electrical engineering from the California Institute of Technology in 2005. She first joined Stanford in 2009 as an assistant professor and served as the director of the Stanford Artificial Intelligence Laboratory from 2013 to 2018. During this time she was the lead scientist and principal investigator behind the ImageNet project, a database that provides researchers around the world with image data for training large-scale object recognition models. In 2017, co-founded AI4ALL, which seeks to create a diverse and inclusive workforce in AI.
Today, Li is the inaugural Sequoia Professor in the Computer Science Department at Stanford University and an elected member of the National Academy of Engineering (2020), the National Academy of Medicine (2020), and the American Academy of Arts and Sciences (2021).
Tak Wah Mak (b. 1946) is a medical researcher, oncologist, and biochemist whose discoveries in multiple fields have greatly impacted public health around the world. In 1984, Mak uncovered new findings around the structure of the T cell receptor for antigens, an essential component of modern immunology. Mak discovered that the T cell receptor for antigens was similar in design to antibodies, yet different in genetic origin and sequence. Prior to his discovery, the nature of the receptor was unknown.
Born in southern China and raised in Hong Kong, Mak earned his Ph.D. in biochemistry from the University of Alberta, becoming a Canadian citizen shortly after. Despite offers from institutions around the world, Mak continued his work in Canada, establishing the Amgen Research Institute in Toronto in 1993 and continuing as a pioneer and trailblazer in Canada's scientific community.
Today, Mak is the Director of The Campbell Family Institute for Cancer Research at Princess Margaret Cancer Centre, and is the recipient of several international awards, including the Canadian Medical Hall of Fame.
Kalpana Chawla (b. 1961, d. 2003) was an American astronaut who was the first woman of Indian origin to go to space. Chawla was highly educated, earning a BSc in aeronautical engineering from Punjab Engineering College, India, a master's degree in aerospace engineering from University of Texas, and a doctorate of philosophy in aerospace engineering from the University of Colorado. After impactful research work at the NASA Ames Research Center and Overset Methods Inc. in Los Altos, California, Chawla was selected by NASA as an astronaut candidate in 1994 and made history in November 1997 as part of a six-astronaut crew that flew the Space Shuttle Columbia STS-87.
In February 2003, Chawla participated in her second space mission aboard the STS-107 Columbia. However, the shuttle crashed during its re-entry to Earth. Chawla was among the crew members who died in the tragic accident. Chawla has been honored posthumously by governments and institutions around the world, most notably awarded the Congressional Space Medal of Honor by the United States Congress.
Read more about Kalpana Chawla.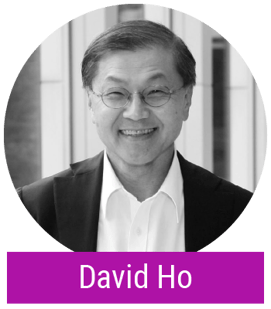 David Ho (b. 1952) is a Taiwanese-American researcher who is celebrated as the inventor of a combination antiretroviral therapy method that dramatically increases survival rates against HIV/AIDS, a highly deadly and untreatable virus at the time of Ho's discovery.
After focusing on AIDS research for nearly a decade, Ho was named chief executive officer and scientific director of the new Aaron Diamond AIDS Research Center (ADARC) in 1990. The ADARC was where Ho did most of his groundbreaking work, including the development of his strategy, utilizing protease inhibitors and reverse transcriptase inhibitors for patients in the virus's early stages. By 1996, this approach revolutionized the outlook of HIV/AIDS diagnoses, and Ho was named Time Magazine's "Man of the Year".
Today, Ho continues in his role at the ADARC, with the ultimate goal of developing an HIV vaccine while also striving to achieve racial equality and accessible healthcare around the world. Most recently, Ho and his team have been enlisted to research COVID-19.
Tsuneko (b. 1933) and Reiji Okazaki (b. 1930, d. 1975) were a Japanese couple that discovered "Okazaki fragments", short sequences of DNA that are formed in the process of DNA replication and linked together to form a continuous strand.
In the early 1960s, molecular biologists could not explain how two daughter strands could grow, in opposite directions, from a single replication point in vivo. Meeting at Nagoya University shortly after receiving their Ph.D.'s, the two pooled their resources and started a laboratory together. Their findings led to the proposal of the model of discontinuous growth, where DNA replication occurs via formation of short DNA fragments that are subsequently linked together. These fragments were later named "Okazaki fragments", an essential discovery in the field of molecular biology.
Reiji Okazaki passed away in August 1975, but his wife Tsuneko admirably continued their work, clarifying further mechanisms of discontinuous DNA replication. She has won numerous awards such as the L'Oréal-UNESCO Awards for Women in Science, the Medal with Purple Ribbon, and the Person of Cultural Merit.
Read more about Tsuneko and Reiji Okazaki.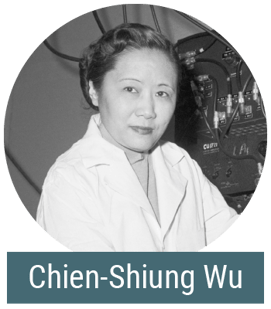 Chien-Shiung Wu (b. 1912, d. 1997) was a Chinese-American experimental physicist. She is best known for designing and conducting the Wu experiment, which proved the theory that parity is not conserved for beta decay. She is also celebrated for her work on the Manhattan Project, helping develop the process for separating uranium metal into the U-235 and U-238 isotopes by gaseous diffusion.
Her eponymous experiment enabled her colleagues to win the Nobel Prize in Physics in 1957. Although Wu's contributions were unacknowledged, she was later awarded the Wolf Prize in Physics and was elected to be the first female president of the American Physical Society.
Often referred to as "The First Lady of Physics", Wu remained an influential figure in the physics community until her retirement in 1981. She devoted much of her later time to educational programs for girls in STEM both in the US and China.
Read more about Chien-Shiung Wu.

These individuals have had an immeasurable impact on STEM, and their leadership has paved the way for the next generation. As we continue to strive for better representation in STEM fields, it is important we push for this equality in all areas of life and condemn all forms of racism and discrimination. Diversity in our workplace and society is what makes us better, and we will continue to do our part to create a more just world.
Learn more about our commitments and initiatives to increase diversity in STEM.