Diversity, equity, and inclusion are important to us at BenchSci and as a part of our DEI journey we are committed to learning about, celebrating, and amplifying the voices and accomplishments of people from diverse backgrounds.
June is Pride Month in the United States and parts of Canada, and we stand with those from the 2SLGBTQIA+ community who continue to embody resiliency and bravery in their identities. Though inclusion has improved in certain respects, many 2SLGBTQIA+ employees continue to experience discrimination in the workplace. In the US:
Almost half (45.5%) of2SLGBTQIA+ employees in the United States reported some form of unfair treatment at work, including: harassment, being fired, or facing hiring discrimination based on their LGBTQ+ status

(source: Catalyst)

43% of2SLGBTQIA+ employees say they feel they are not fully "out" at work, with 47% of 2SLGBTQIA+ respondents saying that they believe being out at work could hurt their career, such as causing them to lose a job, get passed over for a promotion, or miss out on a key project.

(source: 2019 Glassdoor Survey among 6,104 U.S. adults)

Transgender and nonbinary youth who reported having pronouns respected by all or most people in their lives attempted suicide at half the rate of those who did not have their pronouns respected.

(source: The 2020 Trevor Project Survey among 40,001 U.S. youth)



These statistics clearly demonstrate that we as a collective society have a long way to go in creating a truly equitable and inclusive environment for our colleagues from the 2SLGBTQIA+ community. One of the many ways we can do so is by celebrating trailblazers for their invaluable contributions to STEM, and their efforts to embrace their identities while encouraging others to do the same. Here are just a few noteworthy examples: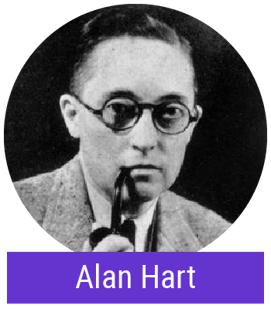 Alan Hart (b.1890, d.1962) was an American physician, researcher, and writer as well as one of the first female-to-male transgender persons to undergo a hysterectomy in the United States and live the remainder of his life as a man.
After graduating from Oregon Health & Science University School of Medicine in 1917, Hart underwent a hysterectomy and planned to take over a medical practice in a small town. However, a former classmate recognized him and told the locals Hart 'used to be a woman'. They then forced Hart to leave town. He relocated his practice several times due to rumors circulating about his gender which negatively impacted his business and his marriage. Despite this Hart went back to school for writing where he met his second wife. He then earned his master's degree in radiology from the University of Pennsylvania. He was then named director of radiology at Tacoma General Hospital.
There he began his research into tubercular radiology and published several articles on X-ray medicine and its use in the detection of tuberculosis. He worked for several years as a tuberculosis consultant before obtaining a Master's degree in public health from Yale University in 1948. Hart served as the director of hospitalization and rehabilitation at the Connecticut State Tuberculosis Commission and continued to dedicate his professional life to tuberculosis research until his death in 1962.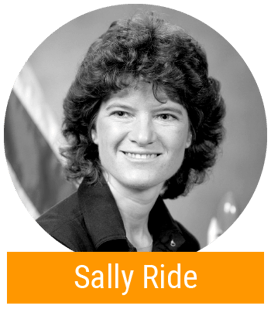 Sally Ride (b.1951, d.2012) was an American astronaut and physicist best known as being the first woman from NASA and the third woman in the world to be in space. She was also the youngest astronaut to have completed space travel in America at age 32.
After flying two missions on the Space Shuttle Challenger, Ride left NASA in 1987. She worked for two years at Stanford University's Center for International Security and Arms Control, then at the University of California, San Diego, primarily researching nonlinear optics and Thomson scattering. She served on the committees that investigated the Challenger and Columbia Space Shuttle disasters, the only person to participate in both. Ride went on to found Sally Ride Science—a nonprofit dedicated to promoting learning and careers in science, technology, engineering, arts, and math—alongside her life partner Tam O'Shaughnessy and three friends.
Ride and O'Shaughnessy were together for 27 years collaborating on a number of award-winning children's science books, educational materials, and programs. She received numerous awards in life and posthumously including the National Space Society's von Braun Award, the Lindbergh Eagle, the Jefferson Award for Public Service, and the NCAA's Theodore Roosevelt Award. A year after Rides' death, President Barack Obama awarded her the Presidential Medal of Freedom, which O'Shaughnessy accepted on her behalf.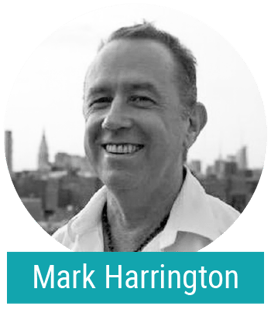 Mark Harrington (b.1959) is a writer, researcher, and activist whose informed engagement in the AIDS research effort has advanced our knowledge about AIDS treatments.
After graduating from Harvard University in 1983 with a degree in visual and environmental studies, Harrington spent time exploring the world and dabbling in artistic endeavors. He joined the AIDS Coalition to Unleash Power (ACT UP) after close friends were diagnosed with HIV during the AIDS epidemic in 1988. He himself was diagnosed in 1990. As part of the Treatment and Data Committee of ACT UP, Harrington fostered relationships with government officials and scientists associated with AIDS research. Differences in opinions on how to best advocate for HIV/AIDS research led Harrington and other members of ACT UP to found Treatment Action Group (TAG) in 1992. As part of TAG, Harrington was able to create influential and meaningful policy regarding HIV/AIDS research by collaborating with the NIH, WHO, and other government organizations.
Though not a formally trained lab scientist, Harrington has become known as a reputable researcher authoring or co-authoring numerous reports and essays, including A National AIDS Treatment Research Agenda (1989), The Crisis in Clinical AIDS Research (1993), and the WHO report, Scaling Up Antiretroviral Therapy in Resource-Limited Settings: Guidelines for a Public Health Approach (2004). He was awarded a MacArthur "Genius" Award for his work and serves as the executive director of TAG advocating for AIDS research and treatment today.
Read more about Mark Harrington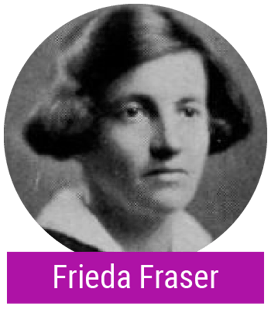 Frieda Fraser (b.1899, d.1994) was a Canadian physician, scientist, and academic whose research focused on scarlet fever and tuberculosis. Preferring research to medical practice, Fraser was a founding faculty member of the University of Toronto School of Hygiene and worked predominantly in infectious disease. In the 1930s she began studies on scarlet fever along with Dr. Helen Plummer and isolated the precipitin present in the strains of streptococci likely to lead to disease. These findings were important in determining the types of antibodies which might be employed for immunization to neutralize the disease.
Fraser studied biology and physics at the University of Toronto in 1917 where she also met her eventual life partner, Edith Williams. Their relationship began as students—William was also enrolled in the sciences and would become one of the first female veterinarians in North America. Fraser received her medical degree in 1925 and moved to New York City for further medical education but Williams, at the encouragement of her family who felt the two were abnormally close, moved to England. They kept in touch and eventually reunited in Toronto when Fraser returned to the University of Toronto as a faculty member and though their families tried to keep them apart several times throughout the years, their relationship spanned until William's death in 1979. Photographs and love letters between the two were preserved and donated by Fraser's family after her death. The vast collection is considered one of the largest of its kind in North America.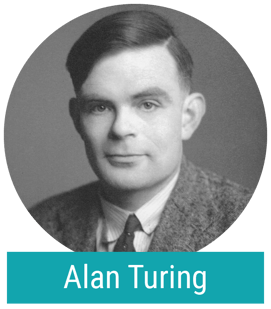 Alan Turing (b. 1912, d. 1954) was a mathematician and computer scientist whose genius is most evident in the invention of the Turing machine, the mathematical representation of the modern-day computer. Born in London, Turing earned degrees in mathematics from both Cambridge and Princeton University. Turing played an invaluable role in World War II, cracking coded messages that assisted Allied forces in defeating the Nazis.
The Turing machine was born from Turing's 1936 paper On Computable Numbers, with an Application to the Entscheidungsproblem, where Turing proved that his "universal computing machine" would be capable of performing any mathematical computation if it could be represented as an algorithm. The paper is considered to be one of the most influential mathematics papers in history and created a framework for the computers we use today.
Unfortunately, similar to his professional accomplishments, his personal life was not fully understood at the time. Turing lived in a time when freedom in sexuality was punished, and in 1952 was criminally convicted because of it. He died at only 41 years old, and despite the cruel circumstances around this, his work and legacy live on in the technology we use and among the brightest minds in computer science. Turing's story was immortalized in the 2014 award-winning film The Imitation Game.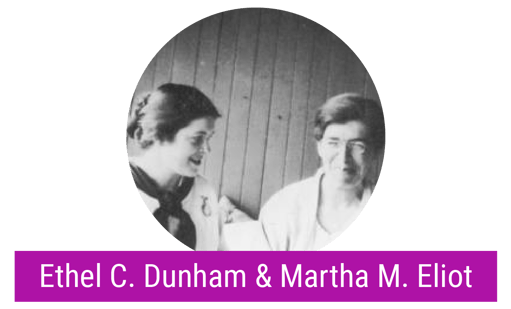 Ethel Collins Dunham (b. 1883, d. 1969) and Martha May Eliot (b. 1891, d. 1978) were pioneers in the fields of pediatrics and public health and partners in both their professional work and personal lives. The pair met in 1910 during undergraduate studies at Bryn Mawr College. Eliot graduated first and chose to delay entry to graduate school by a year so that she and Dunham could start medical school at Johns Hopkins together. Beyond studies, their careers would intersect with each other once again at Yale University as instructors.
Both Dunham and Eliot produced important scientific research and were recognized for their contributions. Dunham's work helped pediatricians gain a place alongside obstetricians in the nursery. Dunham helped establish standards for the care of newborns, and through writing and lecturing, shared new knowledge and standards in the field. Eliot was best known for her study of rickets, and improving diagnoses and prevention methods.
In 1948, Eliot was the first woman elected president of the American Public Health Association and was also awarded a Lasker Medal. In 1957, Dunham was awarded the John Howland Medal by the American Pediatric Society, the first woman to receive the award. Eliot was the second, honored ten years later in 1967. Eliot was also awarded the Sedgwick Memorial Medal in 1958 by the American Public Health Association (APHA), and in 1964, the APHA created the Martha May Eliot Award to recognize outstanding service to maternal and child health.
Read more about Ethel Collins Dunham & Martha May Eliot.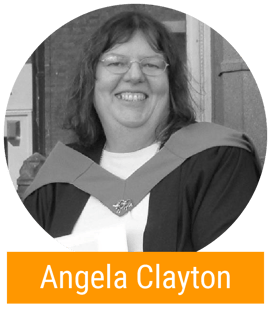 Angela Clayton (b. 1959, d. 2014) was a physicist and transgender rights activist. Based out of the UK, Clayton was passionate about criticality safety and radiological protection and was well-respected in her field. Clayton held several leadership positions in industry and government, including Head of Criticality Safety at the Atomic Weapons Establishment research facility and Chairperson of the UK Working Party on Criticality.
Clayton initially transitioned without medical support and sought surgery after several years of already living as a woman. Clayton has championed several causes related to trans issues, such as the trans campaigning organization Press for Change in 1999. Clayton helped develop the Gender Recognition Act in 2004, empowering trans people in Britain with legal recognition in their lived gender. Clayton was also made a Member of the Order of the British Empire (MBE) in 2006 for her overall contributions to gender issues.
Read more about Angela Clayton.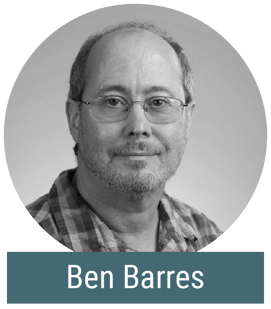 Ben Barres (b. 1954, d. 2017) was a neurobiologist and Chair of the Neurobiology Department at Stanford University's School of Medicine. Barres' work focused on interactions between neurons and glial cells within the nervous system, and his lab made many discoveries about how synapses form in the developing brain.
Barres excelled in science and mathematics from an early age, and a summer science program with no gender restrictions at Columbia University inspired him to pursue a bachelor of science degree in biology at the Massachusetts Institute of Technology (MIT). Barres followed this up with postgraduate degrees from Dartmouth College and Harvard Medical School.
In 1997, Barres transitioned to live as a man, and in 2013, became the first openly transgendered member of the US National Academy of Sciences. His book The Autobiography of a Transgender Scientist details the journey, accomplishments, and struggles in both his professional and personal life.
Focusing on the Future: 500 Queer Scientists
These five scientists from history paved the way for today's scientists, and organizations like 500 Queer Scientists (500QS) are making inroads for the continued inclusion of 2SLGBTQIA+ individuals.
500QS was founded in June 2018 by Dr. Lauren Esposito, a curator at the California Academy of Sciences, and started as a visibility campaign featuring the stories of 50 queer scientists. Today, 500QS proudly consists of 1,500 contributors representing a wide range of fields, and are focused on amplifying and connecting queer scientists to mentors, professional networks, press and speaking opportunities, and more. You can follow them on Twitter and Instagram, and make your voice heard here.