Diversity, equity, and inclusion are important to us at BenchSci and as a part of our DEI journey we are committed to learning about, celebrating, and amplifying the voices and accomplishments of people from diverse backgrounds. In honor of Black History Month, we are taking this opportunity to celebrate some of the significant contributions Black scientists have made to advancing STEM fields. Here, we showcase five influential scientists and their extraordinary achievements.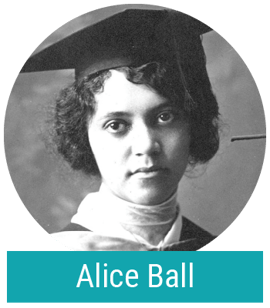 Alice Ball (b. 1892, d. 1916) was a chemist most notable for developing the first successful leprosy treatment. She earned undergraduate degrees in pharmaceutical chemistry and pharmacy before becoming the first African-American and the first woman to receive a Master's degree in chemistry from the College of Hawaii (now the University of Hawaii).
Following her graduation, she was offered a teaching and research position at the institution and became its first female chemistry instructor. Ball's injectible leprosy treatment, created using oil from the chaulmoogra tree, was successfully administered to thousands of people infected with leprosy until sulfone drugs were introduced in the late 1940s. Credit for her discovery was falsely claimed by Dr. Arthur Dean, the college president, however she's recently received the recognition she deserves from the scientific community.

George Washington Carver (b. ~1864, d. 1943) was an agricultural scientist and the first African-American to receive a Bachelor of Science degree, which he followed by earning his Master's in agriculture. He is perhaps best known for developing crop rotation practice, which allowed farmers to increase their cotton yields significantly. Carver also invented hundreds of products (both food and non-food) derived from peanuts, sweet potatoes, and soybeans as a way to utilize the alternative (non-cotton) crops needed for crop rotation to work.
In the later years of his life, he spent time promoting racial harmony in the southern United States and nutrition in India with Mahatma Gandhi. Following his death, he was honored with the George Washington Carver National Monument, the first national monument dedicated to someone who did not serve as a U.S. president.
Read more about George Washington Carver.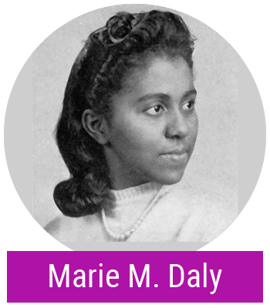 Marie Maynard Daly (b. 1921, d. 2003) was a biochemist notable for ground-breaking research in several areas of biology. She completed her Bachelor's degree in chemistry at Queens College and her Master's at New York University before earning her Ph.D. from Columbia University, making her the first African-American to do so.
Daly's research on histones is considered fundamental, and she was the first to determine the relationship between cholesterol and hypertension, advancing our understanding of how heart attacks occur. James Watson cited her work with proteins as a direct contributor to his Nobel Prize-winning discovery of the double-helix structure of DNA. Daly was also a dedicated teacher who was passionate about increasing minority student enrollment in medical schools, establishing a scholarship fund for African-American science students at Queens College in 1998.
Read more about Marie M. Daly.

Edward Bouchet (b. 1852, d. 1918) was a physicist and educator. In 1876, he made history by earning his Ph.D. in physics at Yale, making him the first African-American to graduate from the prestigious school and the first African-American and sixth person ever to earn a Ph.D. in physics from an American university.
Despite his brilliance, Bouchet was unable to secure a teaching position at a college or university due to racial discrimination, so he took an offer to teach at the Institute for Colored Youth in Philidelphia. He worked there for 26 years until he lost his job in 1902 when the school gave up academic education in favor of industrial training, which many believed to be more suited to African-Americans. Bouchet is remembered today by the Edward A. Bouchet Award (given by the American Physical Society for outstanding contributions to physics) and the Edward Bouchet Abdus Salam Institute (founded in 1988 by Nobel Laureate Professor Abdus Salam).
Read more about Edward Bouchet.

Jane Cook Wright (b. 1919, d. 2013) was a surgeon and cancer researcher, best known for her significant contributions to chemotherapy research. After graduating with honors from New York Medical College in 1945, she interned as an assistant of internal medicine at Bellevue Hospital and then completed her residency at Harlem Hospital.
In 1949, she went to work with her father, Dr. Louis Wright, then the director of the Cancer Research Foundation at Harlem Hospital. Together they began researching new chemicals as potential treatments for leukemias and lymphatic cancer, seeking ways to make chemotherapy more accessible. While there, Wright developed a more effective technique for testing potential cancer drugs using human tissue cultures instead of lab mice. She is also credited with identifying methotrexate, a fundamental chemotherapy drug, as an effective cancer treatment.
Wright's career spanned 40 years, during which time she published over 100 papers on chemotherapy. She served on several councils and advisory boards and received many awards, including an honorary Doctor of Medical Science degree from the Women's Medical College of Pennsylvania.
Read more about Jane Cook Wright.

The hard work and dedication of these and many other Black scientists have helped shape our world, changing how we approach science, technology, engineering, and mathematics.
We believe everyone has a right to pursue and have access to an education and career that inspires them. That's why one of our aspirations with BenchSci Forward is to increase the representation of underrepresented groups in STEM fields by helping them overcome barriers to their success.
Learn more about our commitments to increasing diversity in STEM.