We are excited to share with you our last major update that will make your searching experience on BenchSci even better!
You can now type multiple search terms at once, like you do in Google, and still get the accurate results that you expect on BenchSci. Our platform team has implemented a new search functionality that can identify different types of search terms and multiple terms at once.
Previously on BenchSci you had to enter a single term in the search bar, and then use our filter panel to narrow down the results further. Now you can use our improved search UI to enter multiple search terms at once, such as protein target, technique, and tissue. BenchSci will match these search terms to our filters and automatically generate search suggestions, so you can apply all of the terms at once. You can scroll down to review the list of options and then select the one that's appropriate for your experimental context. If you'd like to learn more about the terms that you can type directly into the search bar click here.
Don't worry, your friendly filters down the left-hand side aren't going anywhere!
You can still use these to narrow down your search if you prefer this to going through the search bar.
Curious to take a look? Check out the examples in the videos below:
Search for a target + context
There are some cases where one search term might match multiple filters. For example, searching for a species will generate different results since the species will be found in Reactivity, Host, and Organism Tested. We will display all possible scenarios so you can choose your intended term. Here is an example:
Search for a specific product
Additionally, you no longer have to click a button to search for a specific product!
You can now search by catalogue number right in the search bar. Just type the catalogue number and select the product option from the drop down.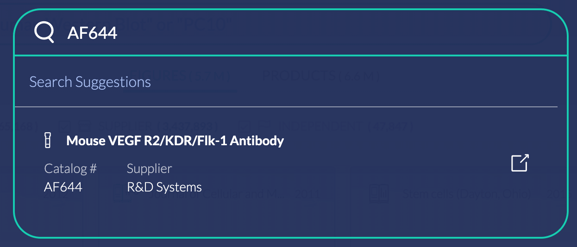 What do you think about our new search? Were you able to find relevant data faster? Let us know in the comments below or chat with us through the app live!
Happy searching on BenchSci!