The BenchSci platform empowers scientists with unique insights to quickly and confidently select appropriate antibodies, proteins, cell products, CRISPR reagents, RNAi reagents, and animal models for their experiments. Now, we're excited to announce we're expanding our platform's capabilities to include PCR reagent data as well!
PCR, or polymerase chain reaction, is lauded as one of the most crucial advancements in molecular biology and is also one of the most commonly used techniques in molecular biology labs.
With BenchSci, scientists can now leverage data on over 21.8 million conventional and real-time PCR primers and probes and their use in 807,000 experiments from published literature to design more successful experiments and accelerate their research.
Save time testing, optimizing, and evaluating PCR primers and probes
BenchSci's proprietary machine learning models extract PCR usage data from the published literature and connect it to product information from top vendors. This enables scientists to more efficiently locate relevant insights from the scientific community and quickly identify PCR primers and probes that have been successfully utilized in experiments similar to their own.
As a result, scientists save time that would otherwise be spent optimizing, testing, and evaluating the suitability of multiple PCR products before running an experiment. Scientists can use BenchSci to:
Review relevant PCR products, filtering by experimental context and vendor-provided specifications
Identify real-time PCR primers and probes most commonly used for a gene of interest
Uncover difficult-to-find insights from the published literature on the utilization of custom or in-house generated PCR sequences
*Please note: functionality to design custom primers is currently not available.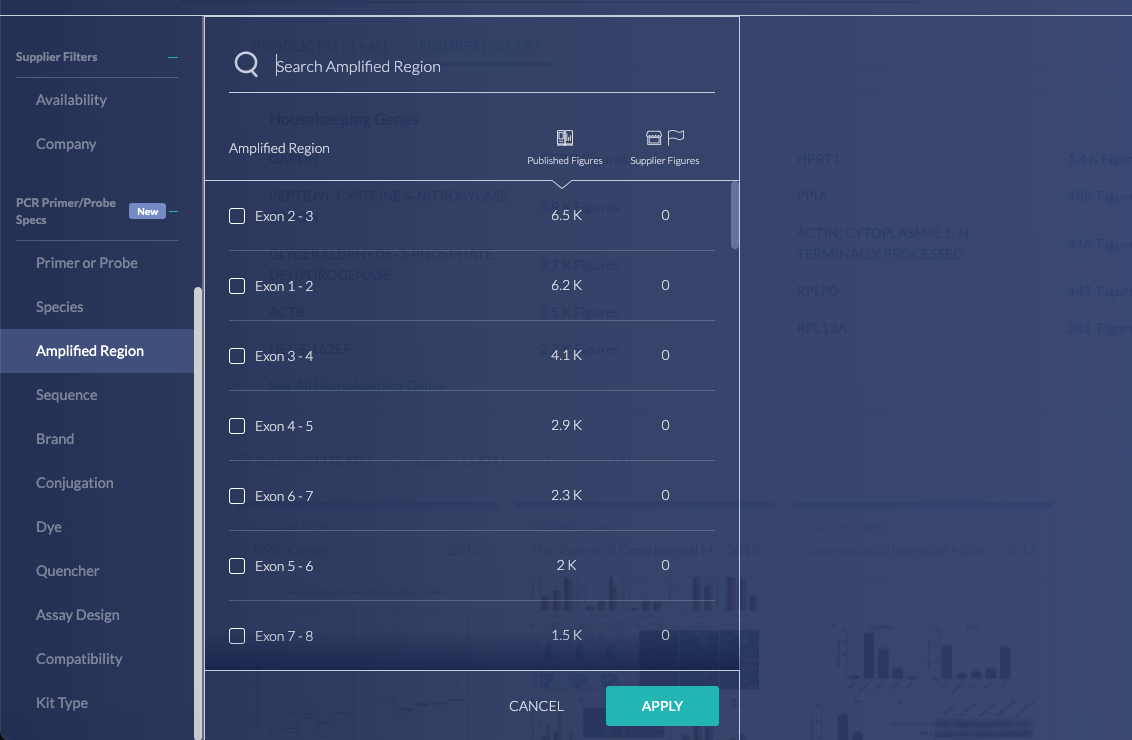 Quickly find housekeeping genes
When designing real-time PCR experiments, a common challenge is identifying a new housekeeping gene when switching from one context to another (whether that's moving on to a new project, cell type, tissue type, or treatment). Scientists often consult published literature to identify which housekeeping genes have been successfully utilized for similar experiments, or they'll go through a lengthy trial and error process to determine an appropriate housekeeping gene.
BenchSci's proprietary machine learning models detect when a gene has been used as a housekeeping gene, enabling scientists to:
Avoid manual literature reviews and optimization tests—scientists can apply experimental context filters to search BenchSci's comprehensive PCR database to quickly find relevant evidence of how a housekeeping gene was successfully used
Search by cell type, tissue type, target, or application to generate a shortlist of genes successfully utilized as housekeeping genes within the desired context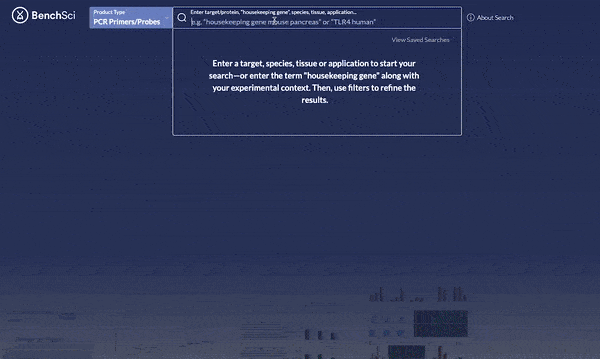 We'd love to hear how you're using PCR data on BenchSci to accelerate your research. Let us know in the comments below. And, please subscribe to our blog for all the latest BenchSci news and updates.