It has been a busy 3 months with many exciting advancements at BenchSci (see our Q1 roadmap, Springer Nature, and Wiley partnerships, for example). We would like to start the second quarter of 2018 by introducing several new features available to you now on BenchSci. Read on to find out what they are!

Search the Way You Like
With the new and improved search bar, you can access saved searches directly. You can also choose to search for protein targets or specific antibodies by SKU. Toggle between the search modes like so: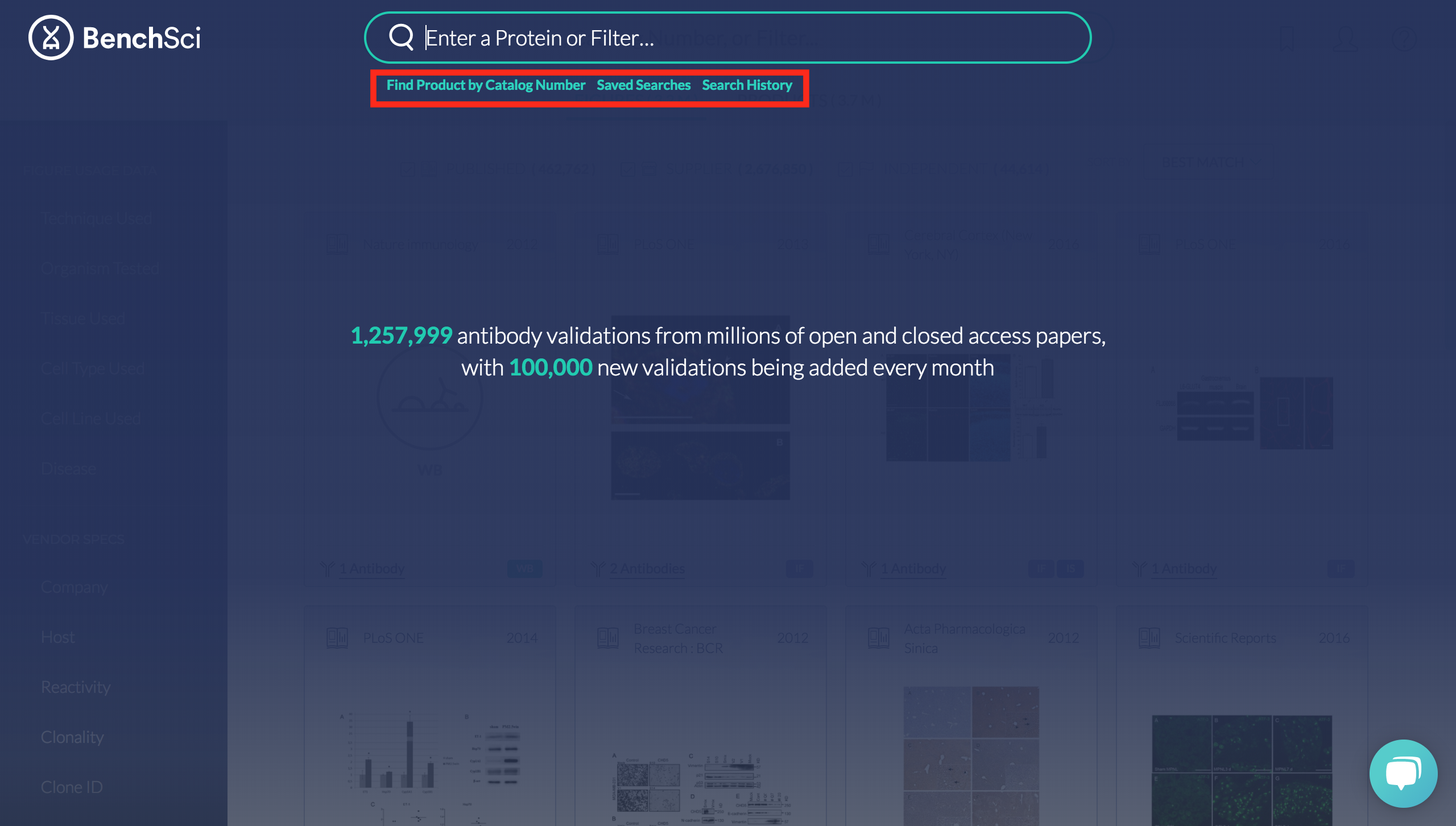 Sort Figures by Impact Factor
You asked for it, and here it is. We added functionality to help you sort figure results by the impact factor of journals. Simply click on the "Sort By" drop-down and select "Impact Factor." Voila. There's the most relevant data published in the top journals under the contexts you specified.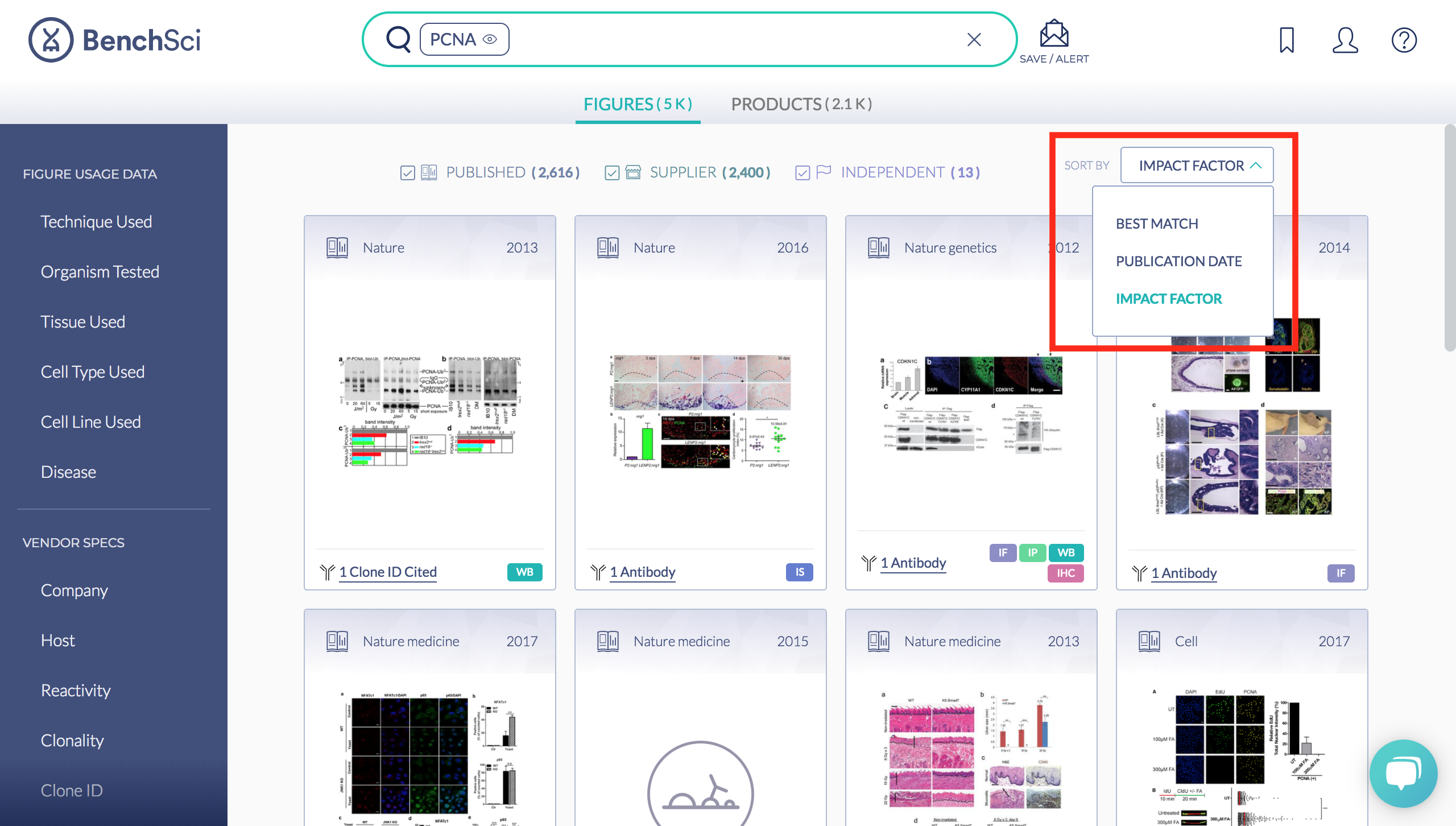 Product Page Enrichment
Published Contexts at a Glance
We redesigned the product pages to more clearly reveal the contexts of antibody usages across the literature. You can now view these parameters at a glance:
Technique tested in paper
Cell type studied in paper
Cell line used in paper
Tissue used in paper
Reactivity specified by antibody supplier
Clicking on any parameters (e.g. technique tested) will reveal the number of figures associated with each context (e.g. WB, IF, IHC, etc.). Clicking on the numbers will then lead you to the figures. Like so: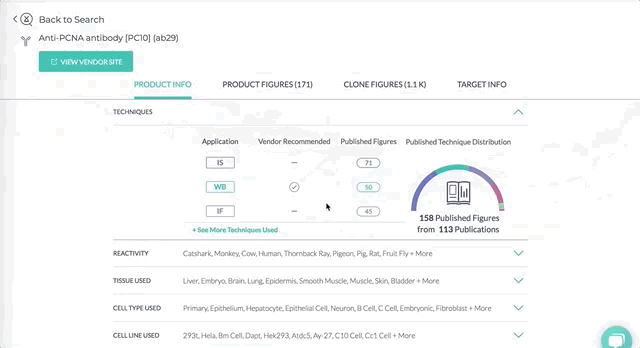 Bioinformatics on Target Functions
As you explore BenchSci, you may come across antibodies for proteins that you are not familiar with. To provide more background to help with your antibody selection, we collected functions and GO annotations associated with the protein target of each antibody product. You can view these under the "Target Info" tab, like this: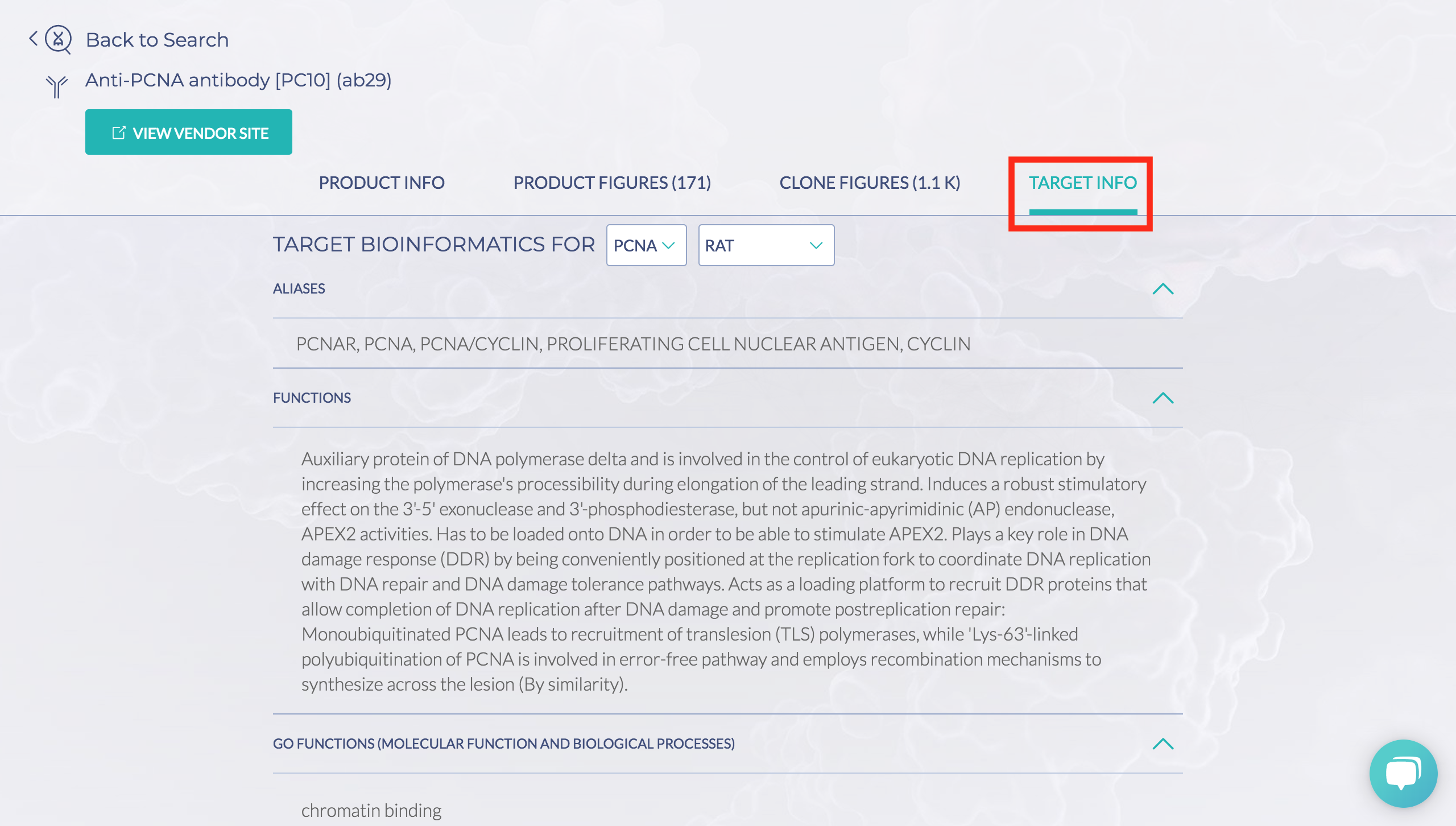 Predicted Cross-Reactivity
The much-anticipated predicted cross-reactivity feature is now on BenchSci! We analyzed over 600,000 antibodies with immunogen sequences available and generated a list of predicted cross-species reactivities for over 400,000. You can read more about how we conducted the analysis here.
You can leverage the predicted cross-reactivity feature to make sure your antibody of choice will not label off-target proteins, or to find existing antibodies that could react with your target proteins, thereby avoiding the need for custom antibodies.
You can examine the predicted cross-reactivity here: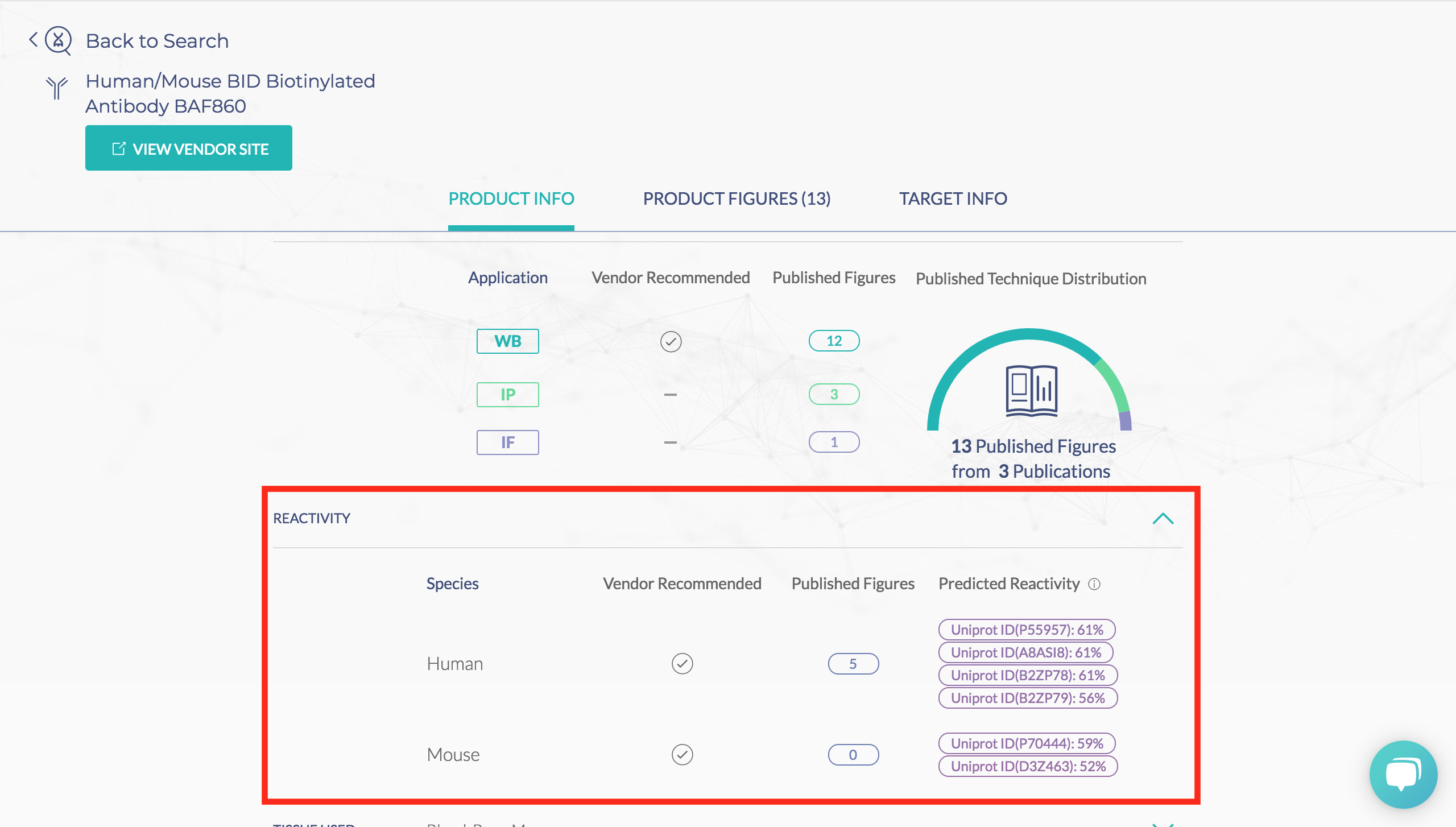 More to Come in Q2!
Last but not least, here's a preview of several features that are in the pipeline for Q2:
Related Products
Found a promising antibody, but it's not quite right? Our new related products feature will suggest similar antibodies to consider.
Dedicated Clone Page
Currently, you can find all figures for a SKU. But not for a clone. We're adding dedicated clone pages to address this gap.
New Closed-Access Papers
This quarter, we're adding hundreds of thousands of closed-access papers through our partnership with Springer Nature and Wiley. Look for the closed-access symbol to find them.
Product Kit Filter
Sometimes, you want more than an antibody. You want a complete kit. You'll be able to find and filter for them this quarter.
That's it! Which of these do you find the most useful? Do you have any suggestions on how we can further improve BenchSci to meet your needs? Let us know in the comments below. We'd love to hear from you.
Happy researching!