As the world adapts to COVID-19, many people are gradually getting used to new ways of going about their day-to-day tasks. One of these new norms is that more scientists are working from home and spending less time being physically in the lab. Nevertheless, this doesn't mean life-saving biomedical discoveries will be slowed down. In fact, speed is now more important than ever as the research community searches for effective treatments and vaccines.
To help scientists make the most of their time, we're committed to empowering them with the information and tools they need to focus on running more successful experiments in the limited time they have in the lab. In this article, we'll be sharing ways how you can leverage BenchSci at home and prepare for your upcoming experiments.
Conduct literature review for experimental planning
Having a better understanding of how a target is studied by fellow scientists is critical for the success of your experiments. For example, you may need to decide which application or cell line is most likely to obtain meaningful results. In order to make an informed decision, it is essential to conduct a thorough literature review on your target of interest. Through the experimental context filters on BenchSci, you can easily identify the most commonly used applications, cell lines, tissues, and even cell types that are associated with your target in the literature.
You can find these data through the following steps:
Search for your target
Open up the experimental context filter of interest
View the results organized in descending order by the number of published figures
For instance, we can see in the example below that the most commonly used cell line to study PCNA through western blot are Hela cells: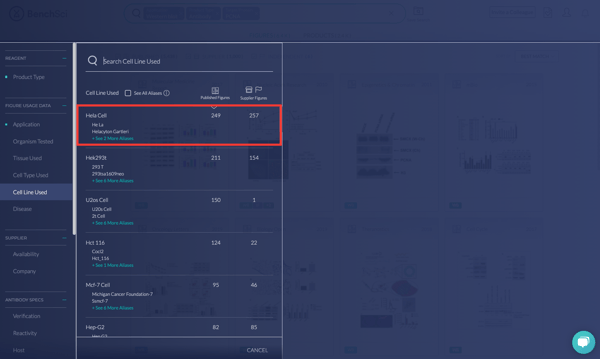 Selecting "Hela Cell" would bring up the relevant results so you can evaluate the data directly and decide if Hela cells would be appropriate for your study. You can then link to specific articles of interest to guide your experimental design by reviewing the protocols, sample size, and statistical tests that other scientists have used.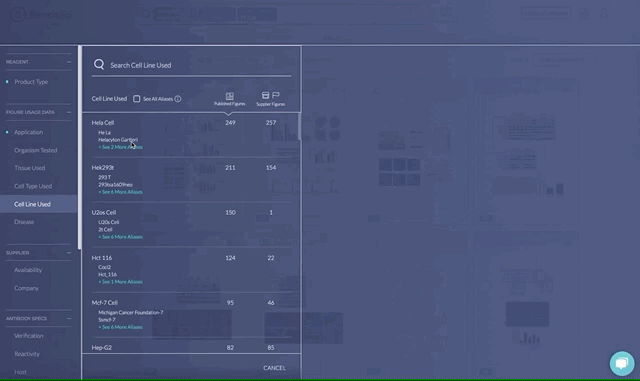 Through BenchSci, you can conduct your literature reviews efficiently at home, and plan out your experiments before you step back into the lab.
Review and compare reagents needed for the desired experiments
Once you have decided which experiments to perform, the next step would be selecting the reagents you need for your experiments, which can also be done at home through BenchSci.
For a given reagent type, the product results will display commercially available reagents, ranked by the number of published figures associated with your experimental contexts.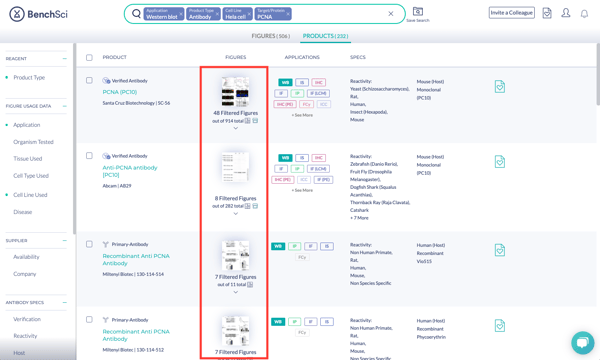 You can select specific products and compare their specifications and the corresponding published figures to generate a shortlist of candidates: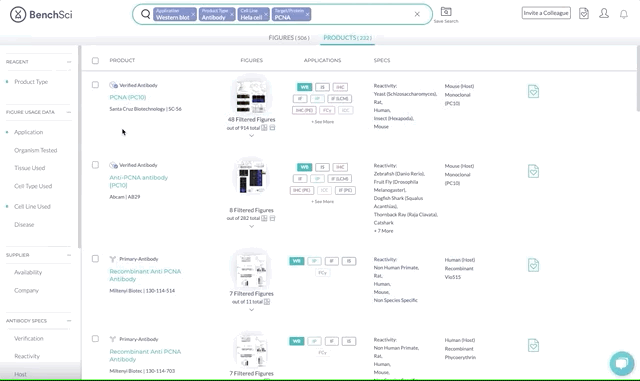 The reagent types on our AI-Assisted Reagent Selection platform include antibodies, RNAi (siRNA, shRNA, miRNA), and protein reagents (recombinant, native, and peptides).
Integrate information found on BenchSci with your existing R&D tools
Once you reviewed the data on BenchSci and selected the potential reagents for your experiments, you can export the list of products to a .csv file, and upload it to your electronic lab notebook and procurement system, so everything you need is ready when you're back in the lab.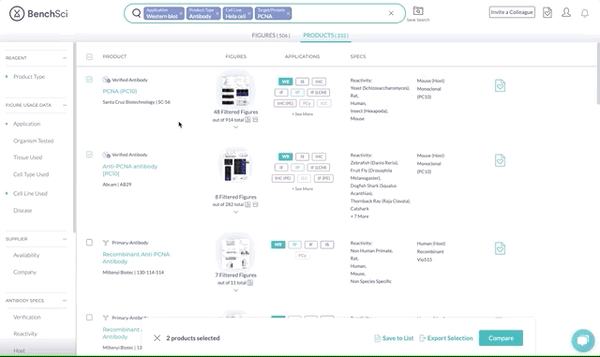 In addition, products and figures found on BenchSci can be organized and saved into lists, so once you're done your experiments, you can benchmark your results against the published data.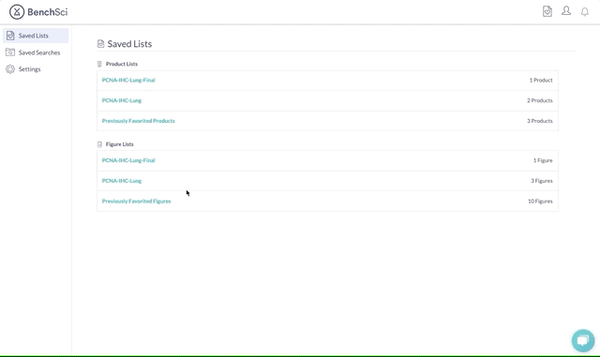 We hope this article gives you a better idea on how to leverage BenchSci at home to carry on your research with limited time in the lab. Let us know how we can further support you through this unprecedented time.