Whether it's our data, features, or underlying technology, we pride ourselves on continually updating our platform so you can design and run more successful experiments. Recently we've been working on a major update and can now make it official: animal models are available on BenchSci!
Selecting animal models is important but challenging
Animal models enable scientists to experiment under controlled situations that mimic the biological conditions of human diseases. Using animal models to validate studies is an important step in preclinical research, helping scientists discover and develop novel methods to diagnose, treat, and prevent disease.
However, finding a suitable animal model can be challenging. It's often necessary to consult many pieces of literature to understand, for example, which strain has been successfully utilized in a specific type of experiment—a process made even more time-consuming by abbreviations and aliases that obscure information.
Even when an appropriate or promising animal model is identified, missing catalog numbers make it difficult to connect findings to a model in a vendor's catalog. Additionally, vendor catalogs often lack historical data or guidance regarding the successful utilization of a model.
With BenchSci's newly added animal model data, scientists can use the platform to more quickly and efficiently find appropriate models.
BenchSci's animal model database includes:
More than 263K animal models and over 374K experiments
20+ species—including mouse, rat, guinea pig, rabbit, zebrafish, and more
Our technology improves animal model selection
BenchSci's proprietary machine learning models are trained to extract animal model specifications from vendor catalogs. Advanced bioinformatic ontologies link animal models to the experiments they have been used in across the published literature.
Scientists can easily apply their experimental context to filter BenchSci's animal models database to review only relevant experimental insights. From there, BenchSci provides a shortlist of animal models that have been successfully utilized within their desired experimental context. As a result, scientists are able to make more informed animal model selection decisions and increase their likelihood of experimental success.
Below are ways that scientists can leverage BenchSci to more quickly locate appropriate animal models.
Identify which strain is most commonly used for your context
BenchSci makes it easy to identify which strain is most commonly used in a specific type of experiment.
For example, to identify the most appropriate strain to model a disease of interest, start a search by entering a species and disease. From there, click on the Strain filter to see which strains are used in the most published figures.

Find all genetically modified models
If you are working on a specific protein and want to see which genetic modifications exist in mouse models, you can search by gene to find genetically modified models available across all vendors.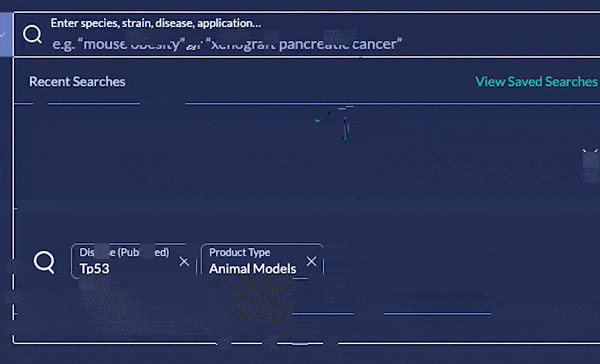 Locate a partially-cited animal model
BenchSci's advanced machine learning models infer catalog numbers when only a strain, or mutant strain, and vendor was cited, making it a lot easier to locate a partially-cited animal model in a vendor's catalog.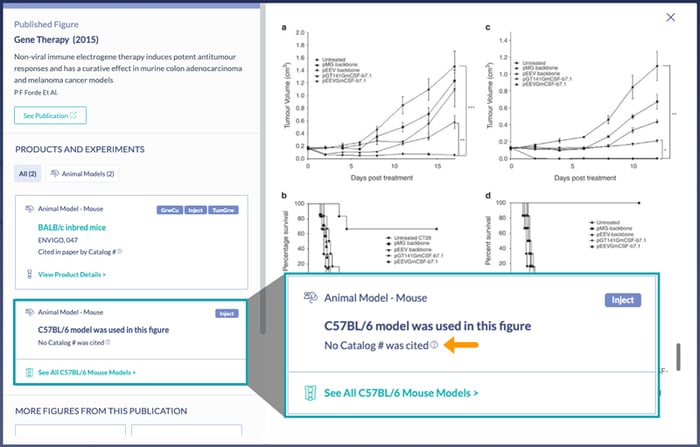 We're proud to be introducing animal models to the BenchSci platform as we continue to expand our ability to help scientists accelerate preclinical research. We'd love to hear about how you're making use of this new addition, and what else we can do to deliver the best BenchSci experience. Let us know in the comments below and subscribe to our blog for future updates!