This week we're spotlighting Omotola Komaiya, a Product Analyst on our Analytics team. Omotola shares below more about her career journey in science and then tech, how our Analytics team plays an important role in building products for our customers, and the best party she has ever thrown! Read on to learn more.
---
Can you tell us about your career journey before BenchSci and what brought you here?
My journey has been different because I studied Pharmacy for my undergrad and I have worked for Novartis and Abbott in the past.
When I came to Canada in 2018, I got licensed as an Ontario pharmacist, but with my technical skills, I knew I wanted to make an impact in the health industry in other ways than sitting in a pharmacy. I started to research about companies making an impact in the industry. I found some, however, BenchSci stood out the most. I gave it a shot and the rest is history.
What has your role been in launching ASCEND?
For the ASCEND launch, My role has been helping Product Managers and the cross-functional teams make critical data-driven decisions. I provide data-driven insights and analysis that help inform these decisions and help the successful launch and adoption of the product. We make sure that we are tracking key metrics like engagement.
You're part of several cross-functional teams. What have you learned from working with team members across the organization?
Working with cross-functional teams across the company, I've noticed that every team has a different approach to work but at the end of the day we all have a common goal. Personally, I have learned how to work with different personalities. By working on different cross-functional teams, I also have gained better insights about BenchSci and what collaboration and teamwork styles work for me.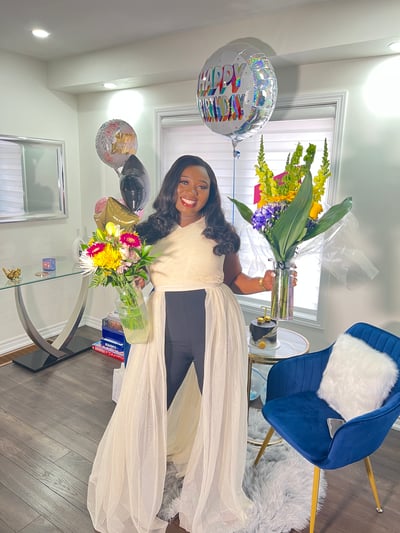 Omotola from her big birthday bash last year - her best party to date!
How do you collaborate with and stay connected to the team in a remote-first organization?
As we are a remote-first organization, I stay connected by keeping in touch on Slack. Donut chats have also done a great deal helping us connect even though we are back at home. And on my team, we make conscious efforts to connect daily during our standups.
What is your favourite perk about working at BenchSci?
My favorite BenchSci perk or benefit would be the Lifestyle Spending Account. I love the fact that it gives me the privilege to be the judge of what I really need. My last purchase was a treadmill and it has been really useful to me!
What advice do you have for other women who are interested in a career in STEM?
For other women who are interested in a career in tech, I would encourage them to get involved in tech communities and organizations. There is always help available.
One of the fun facts you've shared is that you like to organize parties! What's the most memorable party that you've planned?
The most memorable party I have planned would be my last birthday celebration. I initially did not have any plans to do anything, but my sister encouraged me to so I got in the mood and I planned it in a week. It was a night of games, good food, music, and vibes. At the end, people did not want to leave. That is always the sign of a great party, you know, when people don't want to leave.
We're hiring! Check out our Careers page if you're interested in doing the best work of your life and subscribe to our blog to stay up to date with all things BenchSci.