On October 26 and 27, a group of BenchSciers had the privilege of representing the company at the largest tech conference for Black tech professionals in Canada, the BFUTR Summit. This marked an exciting milestone for us, as we have been a participating sponsor for the past three years, but this was the first year we appeared in person with our own booth.
Over the two days, we had the opportunity to meet and connect with over 400 individuals, forging new relationships and establishing connections to build our talent pipeline. It was a fantastic experience to interact with industry professionals and our very own Black@BenchSci ERG members who stepped out of their normal work responsibilities to proudly represent the company alongside us.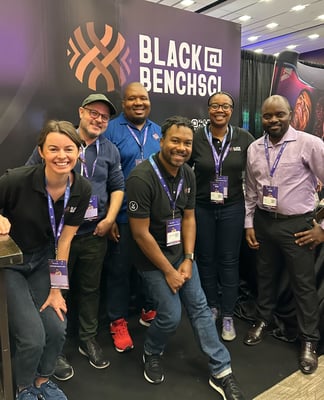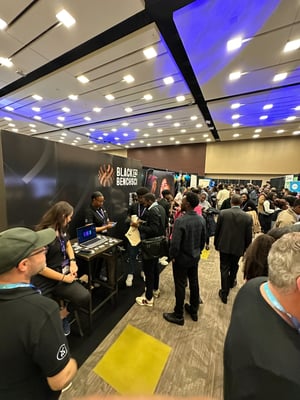 As the only SaaS company representing AI and Machine Learning at the conference, our booth was a main attraction. This gave us an outstanding platform to showcase our innovative solutions and diverse workforce. Being seen and recognized for our commitment to inclusivity and representational diversity reinforced our belief that participation in events like BFUTR is crucial.
So, why was it important for BenchSci to be present at this conference?
Our appearance at BFUTR was a significant and deliberate step in our ongoing commitment to attract and retain Black talent. We wanted to make a resounding statement that we actively seek talent by going to the spaces where they exist, rather than expecting them to come to us. We have come across numerous reports about major companies struggling to find Black talent, often due to surface-level efforts or early-stage dismissals in the application process. By being physically present and engaging in direct conversations, we aimed to differentiate ourselves and introduce BenchSci to individuals who may not have heard of us before. Our partnership with the Black Professionals in Tech Network (BPTN) underscores our investment in inclusivity and diversity, inspiring us to seize every opportunity to connect with the Black tech community.
The importance of representation in the tech industry cannot be overstated. We encountered a recurring comment throughout the conference, "I didn't know there were so many Black tech professionals in Canada". This emphasizes the significance of showcasing the vast talent pool that often remains unnoticed or underrepresented. We firmly believe that building an organizational culture that supports diverse thought and leverages unique experiences is the key to our success.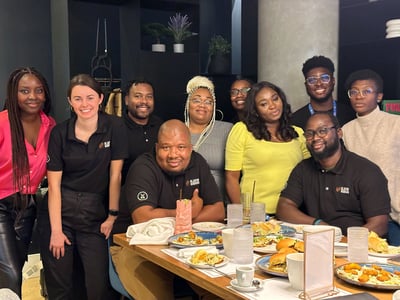 It is disheartening when individuals do not see themselves or only encounter a handful of people who look like them in a particular industry. This scarcity can leave them feeling like they don't belong. By participating in events like the BFUTR Summit, BenchSci strives to dismantle these barriers and ensure that talented individuals from all backgrounds feel seen, valued, and included.
We had some really great conversations throughout the summit, but there were a few that really stood out to me. One individual shared, "I came specifically to see your booth, I have been watching what you are doing and it's amazing". Such feedback reinforces our commitment to innovation and motivates us to continue making a positive impact. Another person expressed, "It's really amazing to see a company this size show up at a conference like this, and also one that has a Black ERG. I would feel seen working there". These words affirm that our efforts are resonating and inspire us to further foster an inclusive environment.
As Elvis Wianda Ph.D., Chief Data Officer and BenchSci Co-Founder, described it:
"Attending the BFUTR was an extraordinary experience that highlighted BenchSci's strong brand in the industry, evidenced by the high traffic at our booth. I was particularly moved by the dedication and passion of our Black employees at BenchSci, who enthusiastically shared their positive work experiences and our company's supportive culture. This summit not only reinforced the importance of diversity in fostering innovation but also deepened my pride in being part of a company that truly embodies these values."
BenchSci's presence at the BFUTR Summit was a resounding success. Meeting and connecting with more than 400 individuals, building our talent pipeline, and representing our company proudly were just a few highlights of this remarkable experience. We will continue our commitment to diversity, inclusion, and creating a welcoming space for outstanding talent from all backgrounds.